Termite Control in Dallas
Total Termite Treatment
Whether you need prevention, spot treatment, or a total termite treatment plan, we have options that will meet your needs. Plus, if you call today, you'll receive $150.00 off our Total Termite Treatment Plan in Dallas. It's never too late to call and stop the costly repairs and damage caused by termites. Put your termite troubles to rest for less!
What Types Of Termites Are In Dallas?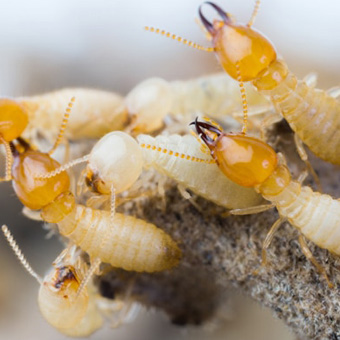 The most common in North America is the subterranean termite. This type of termite causes $5 billion dollars in damage in the United States each year. Termite damage is not covered by most homeowners insurance. Pest Management will take successful methods like conventional, baiting, or pretreat treatments to eliminate termites in your home. First get professional help from PMOT to evaluate and inspect your home for FREE!
If the inspection reveals termites, Pest Management of Texas, Inc. can get rid of them and keep them from returning. If your home is termite-free, PMOT can help you take preventative actions to help ensure it stays that way. It is important for you to have regular inspections in the future to assure your investment remains termite-free. Renewing your termite contract each year is an excellent way to make sure your protection stays intact and keeps you aware of any new conditions. With PMOT protecting your home, termites will be the last thing on your mind!
Termite Warning Signs
A temporary swarm of winged insects (black body with white or clear wings) in your home or from the soil around your home.
Discarded wings from swarmers or suspicious droppings.
Wood that sounds hollow when tapped by a hammer.
Mud tubes or tunnels on exterior walls, wood beams, or crawl spaces.
Cracked or bubbling paint on walls.
Noticeable signs of termite damage on the surface are quite likely to have already been eaten up all the way from the inside.
Tiny holes on any wood surface in or outside your home.
Easy Termite Preventions To Protect Your Home
What you can do to protect your biggest asset! The following steps can make your property a less attractive target and help deter termites.
Remove all mulch and wood debris away from the base of your home because this is a great source of moisture and can attract termites. This includes all wood-related food sources. Examples are stumps, railroad ties, and dead foliage.
All wood siding, form board, and stucco need to be six inches from the ground.
Trim all trees and shrubs away from home.
Keep all gutters clean of leaves so the water can drain properly away from the home. This includes having no leaks in the downspout attachments or gutters.
Make sure exterior faucets are in good repair and attached hoses are tightly fitted with no leaks.
Make sure the air conditioning condensation is draining away from your home.
Don't attach wood structures to your home instead use metal or plastic. EX: are planter boxes, trellis, and shutters.
Firewood stacks should never be stored against your home and should always be elevated six inches off the ground.
Moisture can seep up in crawl spaces so 90 percent of soil should be covered in plastic.
Get rid of standing water on the roof.
Place screen on all outside vents.
Check decks and fences for damage. Make sure the posts are not in contact with the soil.
Fun Facts About Termites
Termites have been feeding on wood since the beginning of time which is over 250 million years.
There are over 4,000 different species of termites.
The US has four major types of termites and they are damp wood, dry wood, subterranean, and the powerpost.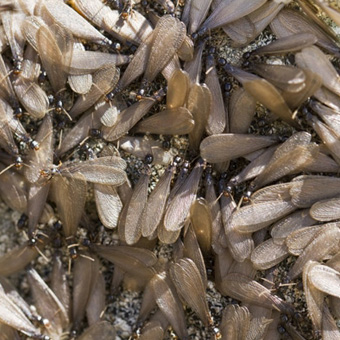 They live in every US state except Alaska.
Depending on the infestation termites can destroy an entire home in two to three years.
The tallest non-human constructions on earth are termite mounds.
A termite nest in South America was discovered with more than 3 million termites.
All the termites in the world would outweigh humans more than ten times.
Direct sunlight exposure over time would kill a termite.
Termites never sleep, so they work 24 hours a day.
An average home infestation consists of three to four colonies around it, with as many as one million termites per colony.
Subterranean termites work up to 250 feet from it colony in search of wood-based foods.
A queen can live up to 50 years and is capable of laying an egg every 15 seconds.
Subterranean termite colony can consume 7 pounds of wood per year.
Subterranean termites cause 95 percent of the 5 billion dollars in damage in the United States each year.
Don't Wait, Call Us Today!
$150.00 Off Total Termite Treatment, Call Today! Put your termite troubles to rest with our Total Termite Treatment plan. It will give you peace of mind and protection for your investment at a price you can afford. Don't wait! Termites can spread quickly and once the damage is done it can cost you thousands of dollars to repair. It's never too soon to call the Termite Terminators at Pest Management of Texas, Inc.!
For professional termite control services in Dallas, TX, or the surrounding area, contact the pest control experts at Pest Management of Texas, Inc. at (972) 495-2847. Our goal is for you to be safe and comfortable in your home.
We Specialize In All Types Of Business Including:
Food Distribution Warehouses